KONI RAID and Heavy Track are specially developed for the on-road and off-road challenges of Light Trucks, 4x4s, and SUVs. Tested and used under the world's most extreme conditions, these KONI dampers satisfy the highest demands regarding safety, stability and road holding grip. For many years, KONI RAID shocks have been the damper of choice for many Dakar Rally racers and support vehicles in Africa and South America where performance, strength and safety are paramount. KONI RAID shocks served their duty on BBC TV's Top Gear North Pole Special and driving up an Icelandic volcano. African Jungle or Urban Jungle, KONI RAID and Heavy Track are ready for the challenge.
Heavy Track
Shocking conditions or winding roads? When asphalt becomes boring and gravel, dirt and dust are too tempting, HEAVY TRACK® 4 x 4 shock absorbers by KONl are the ideal all-terrain option. These shock absorbers will deliver optimum road holding and comfort both on and offroad.
Our 4 x 4 shock absorbers have been specially developed by KONI for 4WD's and Sports Utility Vehicles (SUV's). Tested under extreme conditions, these dampers satisfy the highest offroad demands with regards to safety, stability and grip.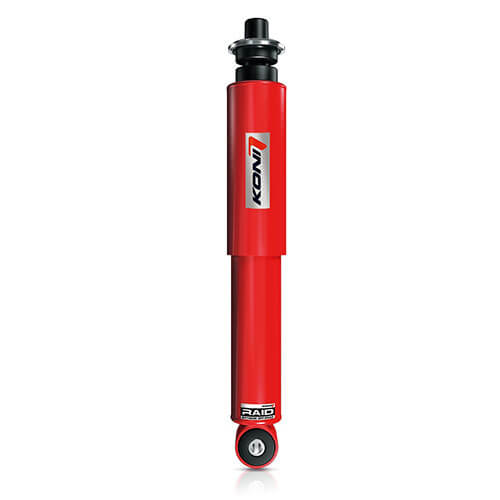 Raid
With many years experience in shock absorber design and manufacturing, KONI – the leader in Heavy Duty dampers for buses, trucks, trailers, military applications, and railway – decided to combine its high level of technology and its 4×4 market knowledge to create a new range of offroad shocks dedicated to the raiders.